SOLD OUT – Marcus Wyatt & Ewout Pierreux Quintet
Price: 15 euro / leden: 13 euro / studenten: 10 euro
Date: di, nov 08, 2016
Time: 20:00 - 22:00
Location: El Gato Negro - Breidelstraat 19 - Torhout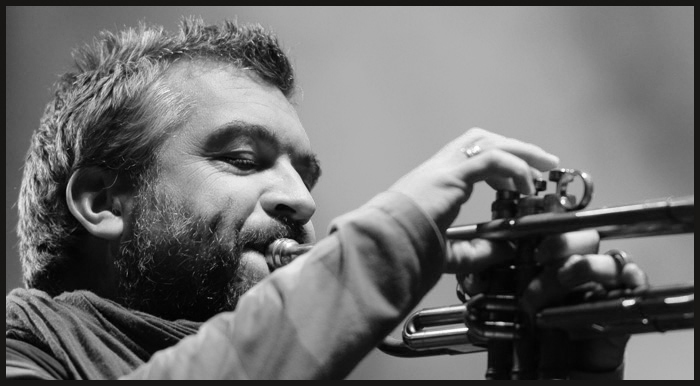 Marcus Wyatt, geboren in Port Elisabeth 1971 Zuid-Afrika, kwam via zijn vader, voorzitter van de lokale folk- en blues club, al op heel jonge leeftijd in contact met muziek. Op 11-jarige leeftijd begint hij trompet te spelen in de schoolband om later klassieke muziek te gaan studeren. Tijdens zijn legerdienst in The Naval Band raakt hij gebeten door de jazzmicrobe en gaat hij studeren aan de Cape Town College of Music. Hij bracht ondertussen al 6 solo-cd's uit die meermaals werden bekroond. Als gastmuzikant, componist of producer werkte hij mee aan tientallen projecten en opnames.
Marcus beweegt zich artistiek vloeibaar doorheen verschillende genres als trip-hop, R&B, standard jazz, bossa nova en autochtone traditionele muziek. Kenmerkend is zijn zeer warme, bezwerende toon en lyrisch, melodische stijl.
Muzikale kleppers die hem die avond zullen bijstaan:
Steven Delannoye op tenor sax, Joao Labo op drums, Romy Brauteseth op contrabas, Ewout Pierreux op piano, Marcus Wyatt op trompet.